Research papers are a way of communicating the work done to the scientific world. These research papers play a vital role in building the portfolio of the researchers, aids in decisions of promotion and various other opportunities. There are a lot of conflicts happening in the scientific world over authorship. Authorship accounts for 2 to 11% of all disagreements that occur in the research community (1).
Research in multidisciplinary sectors, involving many researchers, often end up with authorship conflicts. The major conflicts are on who should be included as authors and the sequence of authors' names in the publication. Contributions from different researchers can be at various levels. For example, the idea behind the project would have been given by one person, the execution of the work done by another and supervision, guidance provided by yet another. There is always involvement of other departments to get expert advice. So the conflict arises on whether all should be given authorship? Who will be the first author? Who will get the publication credit ? Read the following FAQs to understand some of the practical issues around the authorship of a scientific work
1.Why is it so important to have authorship?
Authorship gives credit to the person who has worked on the study. It has various academic implications, social and financial implications as well. The author of a manuscript takes the responsibility of the content and he is accountable on the novelty and validity of the findings.
2.Should you demand authorship?
This issue is guided by the International committee of medical journal editors (ICMJE) recommendations. The purpose is to ensure that all authors who have made significant intellectual contributions to the paper are given due credit. ICMJE authorship criteria: 1. Substantial contributions to the conception or design of the work; or the acquisition, analysis, or interpretation of data for the work; AND 2. Drafting the work or revising it critically for important intellectual content; AND 3. Final approval of the version to be published; AND 4. Agreement to be accountable for all aspects of the work in ensuring that questions related to the accuracy or integrity of any part of the work are appropriately investigated and resolved. Those who satisfy the above mentioned four criteria should be given authorship as per ICMJE recommendations.
3. How to clearly outline the author's contribution to a manuscript?
Journals usually insist on providing the author contributions for each author separately at various stages of the research. Some journals provide a structured template to specify each author's contribution for a specific manuscript. For example, Journal of Pathology and Translational Medicine (JPTM) participates in the CRediT standard for author contributions (https://casrai.org/credit/). The contributions of all authors must be described using the CRediT Taxonomy of author roles. For each of the categories below, please enter the initials of the authors who contributed in that category. If listing more than one author in a category, separate each set of initials with a coma. If no one contributed in a category, you may leave that box blank.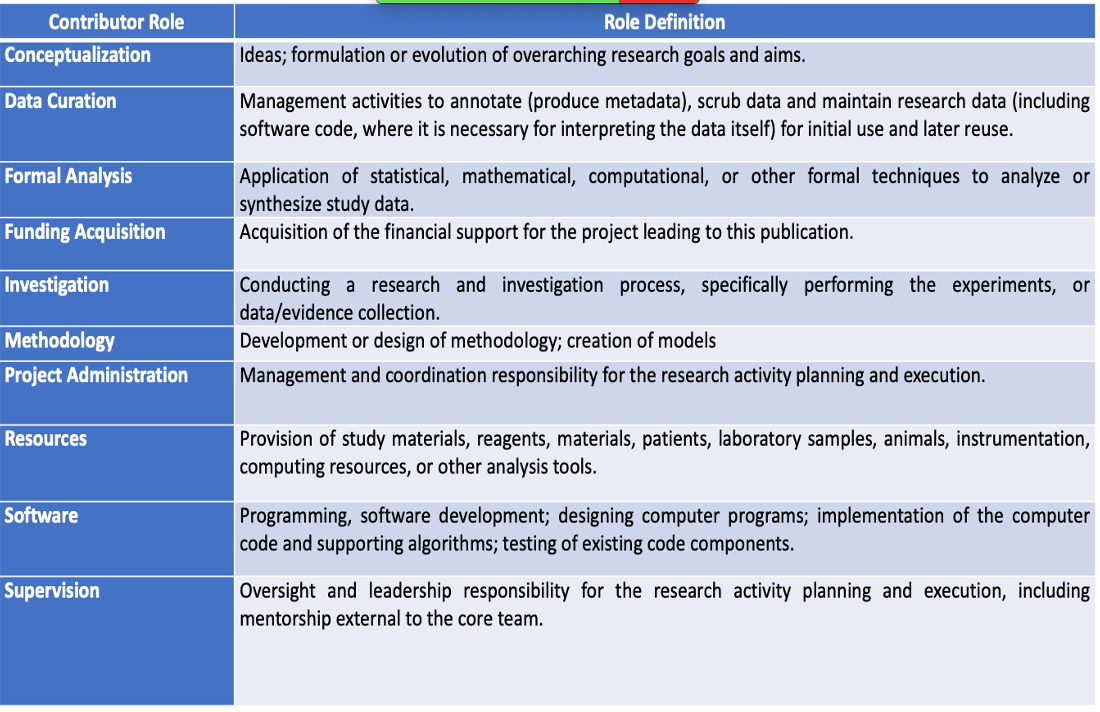 The corresponding author is responsible for completing this information at submission, and it is expected that all authors would have reviewed, discussed, and agreed to their individual contributions ahead of this time. Examples of authors' contributions are as followings:(Assuming CKJ, YMJ,SJ and YMJ are short names of authors) Conceptualization: CKJ Data curation: YMJ Formal analysis: SJ, CKJ Funding acquisition: CKJ Investigation: CKJ Methodology: SJ, YMJ, YK, CKJ Project administration: SJ Resources: CKJ Software: Supervision: CK Validation: SJ, CKJ Writing – original draft: SJ, CKJ. Writing – review & editing: SJ, YMJ, YK, CKJ. Approval of final manuscript: all authors
This new practice ensures that the author's contributions are clear and their responsibility is divided based on their work area.
4.What to do, if your colleagues publish a study without giving due credit to you?
Request for add in your name after submission to the editorial board, after internal discussion and mutual consensus within the team of authors Can lodge a formal complaint to the editorial board of the journal. You may need to submit necessary documentary proofs to your contribution Can lodge a formal complaint with university/ institutional and academic regulatory authorities of your state/province/country
5.Your colleagues added you as co author without your notice, what to do?
Usually get a email notification seeking your approval : deny that you are a co-author Can write to editor of the journal stating the reason and request removal from authors list
6. I am a PG student, who will have the rights for publication of my thesis, me or my guide?
There is no proper guideline for this, however conventional practices are followed which are stated here and few journals have their own policy that has to be checked. The postgraduate student can publish his thesis work, but due credit in authorship should be given to guides and co-guides. Journals now-a-days insist on including the guide/mentor names also to avoid post publication conflict Check with your PG institution's policy. Consents signed during admission into course and the ethical committee documents might contain the policy regulations on research work and credits.
For example, Journal of Clinical and Diagnostic Research has mentioned the following as part of authors instructions: These are the guidelines given out by respected international bodies for authorship. Based on our experience we have added a few points to the above which should also be taken into consideration while deciding upon the authorship list.
● Some articles are based on thesis works. In such cases, we expect both the Guide/Mentor and the Principal Investigator to be part of the authorship. In past we have faced post-publication authorship conflicts in which either of them were not included; hence the policy was introduced. If the corresponding author did not follow this, by excluding either or both the Principal Investigator and the Guide, they should attach a documental proof of consent whereby the individual has consented on the publication without his or her name in it as author. Interested readers can refer to the editorial publication based on such an incident .
● In some articles authors from departments unrelated to the topic of the article, from geographically separate institutions are seen. As incidences of gift or purchase authorship is high in the Indian subcontinent, such authors are viewed with contempt. And as a rule our editors tend to shy away from such articles, unless a compelling argument is put forth by the corresponding author." (3)
7.After PG I am moving to another institution. Which institutional affiliation should I provide while submission of manuscript? Institution where the research was done or the institution where I am currently working?
● First look into the journal policy on such matters
● What does your institutional policy state? (institutional scientific committee rules might have a statement on such matters look into that)
● You can decide on to include the PG institution in study place and use current institution in affiliation ● Provide acknowledgement to both institutions in the paper.
● There is no fixed policy on this conflict. Hence, with proper acknowledgement one can decide on which institution to include.
1.Desai C. Authorship issues. Indian J Pharmacol. 2012 Jul-Aug;44(4):433–4. doi: 10.4103/0253-7613.99294. PMCID: PMC3469942. Recommendations for the Conduct, Reporting, Editing, and Publication of Scholarly Work in Medical Journals Updated December 2019 http://www.icmje.org/recommendations/ JCDR author guidelines https://www.jcdr.net/editorial_statement.asp