What is correlation?
The term "correlation" refers to a relationship or association between two variables. It is a measure which shows us how closely the variables are related.
How can it be measured?
Correlation between the variables can be measured using the "correlation coefficient" ; it usually varies between ±1. Usually if correlation coefficient value is less than ±0.5 then it's called as weak correlation, if value lies between ±0.5 to ±0.7 it's called moderate correlation, if value is more than ±0.7 then it's called as strong correlation.
Correlation coefficients can be measured in two ways:
    Pearson Correlation Coefficient:
It is used when the data is normally distributed, it is used to evaluate the linear relation between two variable (continuous) and it is usually denoted by "r"
Ø  Assumptions:
Scale of measurement should be interval or ratio
Variables should be approximately normally distributed
The association should be linear
There should be no outliers in the data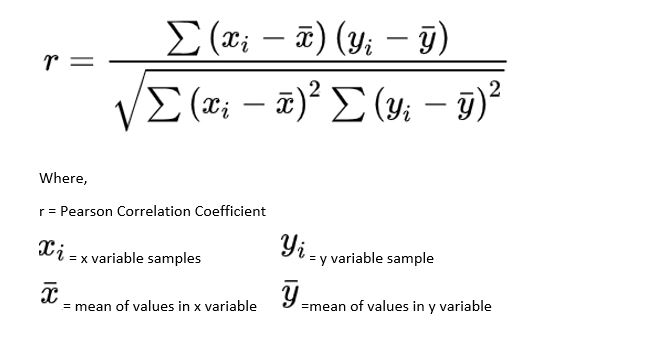 Spearman Correlation Coefficient:
It is used when the data is non normally distributed, it is used to evaluate whose relationship is monotonic (i.e., a change in one variable is generally associated with a change in a specific direction in another variable), in spearman correlation the coefficient is based on ranks instead of their original values it is usually denoted by "Rs"
Ø  Assumptions:
Scale of measurement must be ordinal (or interval, ratio)
Data must be in the form of matched pairs
The association must be monotonic (i.e., variables increase in value together, or one increases while the other decreases)
There should be no outliers in the data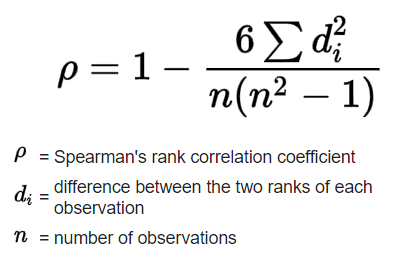 References:
https://statistics.laerd.com/statistical-guides/spearmans-rank-order-correlation-statistical-guide-2.php