What is the best way to summarize a categorical variable?
Frequency distribution is the most common way of summarizing a categorical variable. It can be either represented as a tabular form called frequency distribution table or graphically using a bar chart or pie chart.
What type of data will we use for this frequency distribution ?
Only categorical data we can use for frequency distribution. But there are two types of categorical data as below Nominal Ex: Age groups, Gender, Test result (positive/negative) etc., Ordinal Ex: Socio economic class, Satisfaction rate of service (highly satisfactory, satisfactory, not satisfactory) etc.,
Table: Descriptive analysis of type of hypertension in the study population (N=42)
| | | |
| --- | --- | --- |
| Type of hypertension | Frequency | Percentages |
| Gestational hypertension | 25 | 59.52% |
| Superimposed preeclampsia | 10 | 23.81% |
| non superimposed preeclampsia | 3 | 7.14% |
| chronic hypertension | 4 | 9.52% |
Interpretation: Among the study population, Gestational hypertension was present in 59.52% (25 out of 42) and superimposed preeclampsia was observed in 23.81% (10 out of 42) and the proportion of non superimposed preeclampsia and chronic hypertension was 7.14% and 9.52% respectively. Figure: Bar chart for distribution of type of hypertension in the study participants (N=42)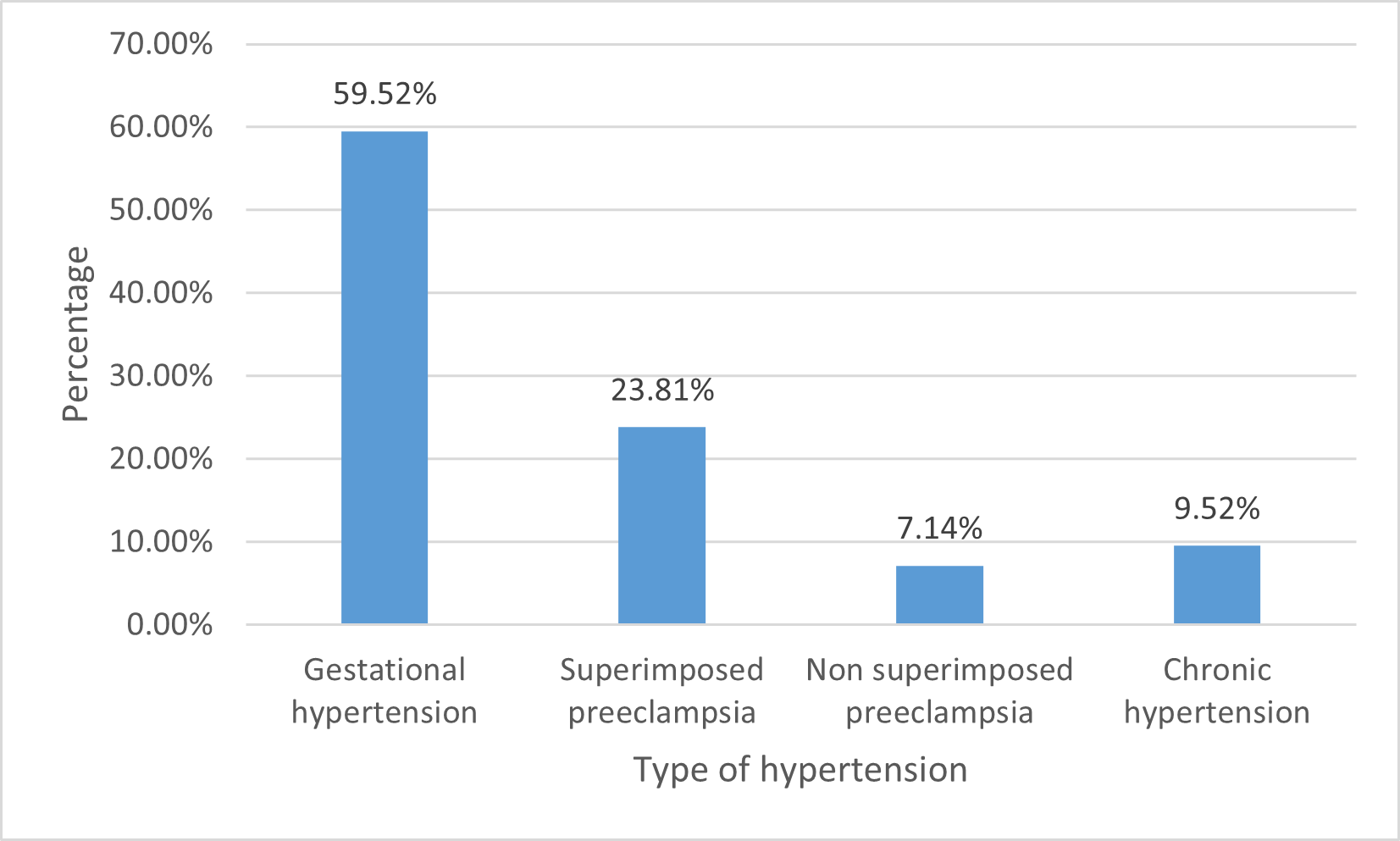 Table: Descriptive analysis of body mass index in the study population (N=82)
| | | |
| --- | --- | --- |
| Body Mass Index | Frequency | Percentages |
| Healthy (18.5 to 24.99) | 14 | 17.07% |
| Overweight (25-29.99) | 46 | 56.09% |
| Obese (>=30) | 22 | 26.83% |
There were 14 (17.07%) healthy participants based on Body Mass Index and the proportion of over weight and obese was 56.09% (46 out of 82) and 26.83% (22 out of 82) respectively. Figure: Pie chart for distribution of Body mass index in the study participants (N=82)