AIIMS New-Delhi; The best teaching medical institution outside US
Johns Hopkins University School of Medicine is the top medical college in the world for 2021 with an overall score of 99.06 as per the report from CEOWORLD magazine. The overall score is sum of academic reputation, admission eligibility, specialization, global reputation and influence, annual tuition and fees, research performance and student satisfaction. All the top 10 medical colleges are from United States of America, not just that, ranking till 22nd place is held by medical college from US only. All India Institute of Medical Sciences Delhi is ranked 23rd with an overall score of 86.38, the highest not only among Indian colleges but also among colleges outside US. Armed Forces Medical College (Pune), Christian Medical College (Vellore), JIPMER (Pondicherry), Madras Medical College (Chennai) and Institute of Medical Sciences BHU (Varanasi) are the other Indian medical colleges that made it to top 100 and are ranked 34th, 49th, 59th, 64th and 72nd respectively.
Figure 1: Comparing the score of top 10 medical colleges with top Indian medical colleges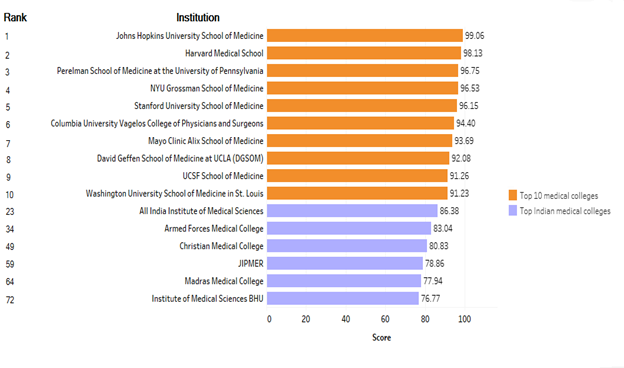 USA is in 1st place with 48 medical colleges in the top 100 list. UK is in 2nd with 7 medical colleges making it to top 100. 6 medical colleges each from India and Netherlands are in top 100 medical colleges list. This performance from India can be considered as a big achievement and can be taken as encouragement by other medical colleges who are not the top 100 list to up their game and make to it the list next year.
Figure 2: Number of medical colleges in Top 100 list according to country